Néstor Sánchez was born in Villa Pueyrredón neighborhood on February 7, 1935. In the mid-50 he starts dancing tango and becomes a very good dancer. He also starts writing poetry.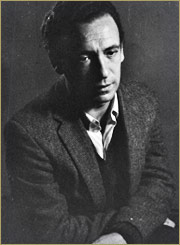 In 1963 he publishes his first book "Escuchando a tu hijo", whose authorship he will always deny. In the early sixties the discovery of jazz will be crucial in shaping his next books. He sends the manuscript of his first novel "Nosotros Dos", to Julio Cortázar, who lives in Paris. Cortázar gets really excited about Sánchez' personal style, it is published in 1966. The following year, in 1967, "Siberia Blues" is published and Sánchez begins to have a growing readership.
He discovers the "esoteric" teachings of the Fourth Way of George. I.Gurdjieff In 1969 he writes "El amhor, los orsinis y la muerte". That year he gets a scholarship of six months at the University of Iowa, USA.
He goes from USA to Venezuela, where he meets Teresa, his third wife. Daughter of one of the first instructors of Gurdjieff teachings in Latin America, they together deepen their spiritual journey and search.
They travel to Europe in 1970. His three novels are published in Barcelona and, under contract, he begins to write, "Cómico de la lengua", his fourth novel . He starts working as a reader for the Latin American area of Gallimard.
Gallimard publishes "Nosotros Dos" and "Cómico de la lengua" in French.
From 1975 to 1978 he lives between Paris and Barcelona in weak psychical and economic conditions. In 1978 he suddenly travels to New York.
In 1986, at the edge of a physical and mental breakdown, seeks help from his family to return to Argentina. "La condición efímera", the last book he writes as he gets to Buenos Aires, is published. He dies in the same house where he was born, on April 15th, 2003.